What Are Death Certificates and Why Do You Need Them?
I know that this isn't the most fun topic I have ever emailed you about, but it is still important. Death certificates are some of the least understood legal documents in America.
What is a certified Florida death certificate?
Death certificates are official legal documents issued by Florida that certify an individual's date, location, and cause of death.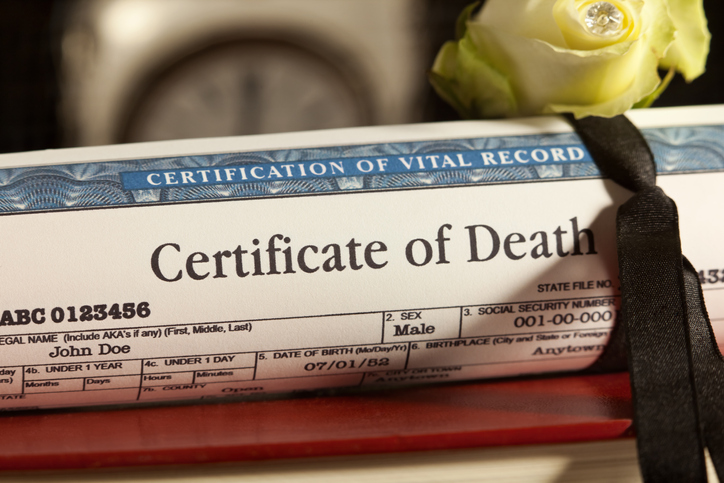 What are the Different Types of Death Certificates?
| | | |
| --- | --- | --- |
| | With the cause of death a/k/a short-form | Without the cause of death a/d/a long-form |
| Size of paper | Letter-size paper (8.5 x11 inches) | Legal-size paper (longer than letter-size paper, i.e., 8.5 x 14 inches) |
| Use | Used for virtually all needs except for life insurance and other uses where the cause of death is needed to establish eligibility to receive funds or property | Life insurance, some pensions, and to claim other benefits or transfer assets where eligibility is dependent on the cause of death. |
| Who can legally obtain the death certificate | Anyone for any reason and on any person. This document is a public record and not confidential. | The decedent's spouse or parent-child, grandchild, or sibling any person who provides a will, insurance policy, or other documentation that demonstrates their interest in the estate any person who provides documentation that they are acting on behalf of any of the above-named parties by court order |
| Is the identification of the person trying to obtain the death certificate required? | No. | Often (this is a complicated question, but identification is often needed) |
| Social Security Number displayed on the death certificate | The first five digits of the decedent's social security number are redacted. The last four digits are visible. | The entire social security number is visible. |
| Subject to federal and state privacy regulations? | No | Yes |
When Can Death Certificates Be Ordered?
At any time after they are available. There is no "last day" to order death certificates.
How Long Does It Take Until They Are Available?
Approximately a week after we have all of the "vital statistics" relating to the deceased. However, it can sometimes take longer before the death certificates are available because of delays in certifying the decedent's cause of death.
Who Should I Call To Order A Death Certificate?
The best source of death certificates is your funeral home. Also, in Florida, you can obtain death certificates from any county health department and the state.
How Much Should I Pay Per Death Certificate?
Approximately $15 per death certificate.
After Ordering A Death Certificate From Your Firm, How Long Does It Take For Them To Arrive?
Once death certificates are available, it takes us one to three business days (normally) to receive death certificates.
How Many Death Certificates Should I Order?
The number of death certificates needed varies by family and decedent.
However, in my experience, the number of death certificates needed is most often a lot less than families anticipate.
Remember, you only need death certificates to claim benefits and transfer assets. You do not need death certificates for creditors, utilities, or other parties to whom the deceased owed money.
Please let us know how we can serve you and your family.
9070 Kimberly Boulevard
Boca Raton, FL 33434
© 2022 Sunshine Cremation Services LLC. ALL RIGHTS RESERVED. Privacy Notice.
All Funeral Services will be provided by either Sunshine Cremation Services or its parent company Kronish, Sunshine & Co., a licensed funeral establishment. This website is for informational purposes only. No funeral services are being offered and sold herein.